4 surprising trends to watch with dental assistant satisfaction

Dental assisting has long been viewed as a challenging but rewarding career. Since DANB's first Salary and Satisfaction Survey in 2004 , at least three-quarters of dental assistants have rated their job satisfaction as "high" or "very high" every year. As the profession has faced challenges in recent years — from pandemic-related office closures to ongoing staff shortages — we were particularly interested to review the 2022 survey results. Here are some of the top trends we identified when it comes to dental assistant satisfaction.
Dental assistant satisfaction is still high overall.
The majority of dental assistants report "high" or "very high" job satisfaction. This is true for both DANB Certified Dental Assistants (66%) and non-certified dental assistants (59%).
The top factors influencing dental assistant satisfaction were salary, work-life balance, feeling part of a team, employer recognition, and insurance benefits.
"I enjoy working as a Certified Dental Assistant," says one survey participant. "It is a rewarding profession, and I am so proud of what I do to assist the dentist, office, and especially the patients."
Satisfaction has dipped since 2016.
Although most dental assistants are satisfied with their jobs, a growing number have reported being dissatisfied in recent years.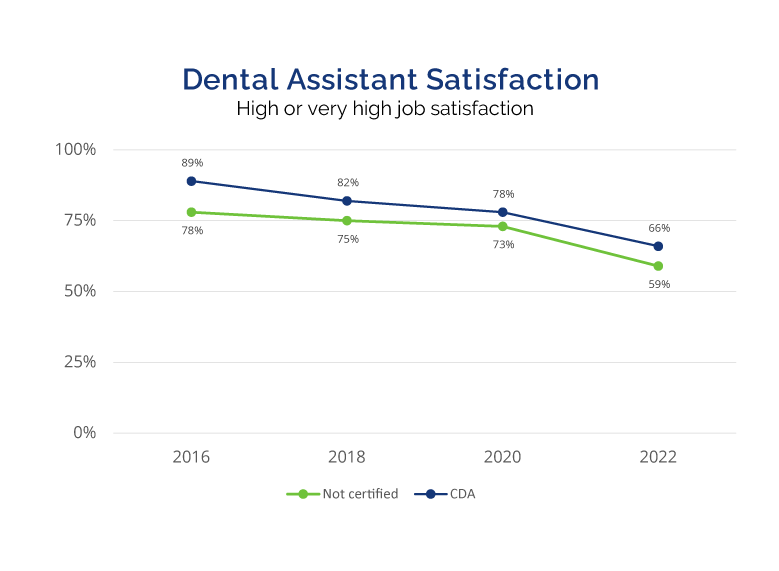 A variety of factors may be behind this decrease. Inflation has steadily raised the cost of living over the years, and it has increased significantly in 2022. Although dental assistant pay has gone up over the years, it hasn't kept up with the rate of inflation. According to the U.S. Bureau of Labor Statistics, the median hourly wage for dental assistants in May 2010 was $16.09. As of May 2021, the median hourly wage was $18.59, a 15.5% increase. However, inflation went up by 23.4% between May 2010 and May 2021, higher than the rate of the increase in dental assistant pay.
Additionally, the dental office environment has become even more fast-paced as dental assistants are asked to perform more duties and cover gaps left by staff shortages. Despite taking on more responsibilities, just 54% of survey respondents agreed or strongly agreed that they feel valued by their employers. That's down from 71% in the 2020 survey.
"I love what I do, but I feel dental assistants deserve a pay raise," says one survey respondent. "After all, the patient's care is in our hands. We have to be knowledgeable about many things and know what to do if the worst happens."
Pay and lack of appreciation are top reasons assistants change offices.
As satisfaction has dipped among dental assistants, some have chosen to transition to different practices. In the last two years, 17% of dental assistants have changed dental offices. Feeling unappreciated was the most common reason dental assistants moved to another practice. Many also changed offices to receive better pay, get better work-life balance, or escape difficult team dynamics at their previous practice.
"I believe it is important that all dental assistants are shown how much they're appreciated in the dental field. It can at many times seem as if we're not," says one survey participant. "We help not only the dentist — we also help the hygienist and the patients."

Many still feel dental assisting is a career, not just a job.
Despite the ongoing challenges, most dental assistants are still passionate about their profession. Among survey respondents, 78% consider dental assisting a career — not just a job.
"I do and have always looked at dental assisting as a profession, not just a job," says a survey respondent who has been a CDA for over 30 years.
"I do what I love and love what I do — and I do it with pride, dedication, and enthusiasm," says another survey participant.