Certified Dental Assistant named Oral Health Hero for her lifelong commitment to service

Above: Maureen Pisano, CDA, center, accepts her Oral Health Hero of the Year award in early March.
For Maureen Pisano, CDA, of Flagstaff, Arizona, her longtime dental assisting career has brought a wealth of personal and professional rewards.
The retired dental assistant educator with a passion for volunteering can recall nearly 50 years' worth of meaningful experiences, all earned while working "from the heart."
Pisano's dedication to service has impacted not only her own life, but also the lives of countless dental patients and colleagues. Recently, she received the Northern Arizona Oral Health Coalition's 2023 Northern Arizona Oral Health Hero of the Year award in recognition of her outstanding career and lifelong dedication to volunteerism.
"I was in awe, actually," Pisano says of accepting the award in early March 2023. "To be honored for something that I just love to do and can't imagine not doing was very humbling, and I was very appreciative."
A lifelong commitment to volunteering
The Oral Health Hero award highlights Pisano's leadership work with Flagstaff's Give Kids a Smile (GKAS), an American Dental Association Foundation program that has provided free oral health services to underserved children since 2003. Pisano helped coordinate the GKAS free dental screenings in summer 2016 at the Sid Davis Memorial Dental Clinic — leading the event's fundraising, as well as setting up patient appointments and staffing.
Along with her GKAS experiences, the Oral Health Hero award also recognizes Pisano's efforts to help establish the Sid Davis Memorial Dental Clinic. Pisano joined the clinic following her retirement from dental assisting education about a decade ago, when the clinic started.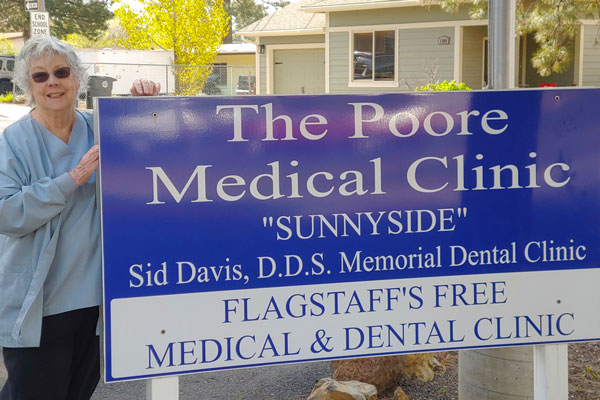 ---
"My husband was a career soldier, and we were stationed at a U.S. Army base when I started volunteering as an American Red Cross dental assistant. And I just fell in love with dentistry at that point, so I've been in dentistry ever since then."
— Maureen Pisano, CDA

---
Pisano works in both the front and back of the clinic, handling a variety of duties. Of what she enjoys most about her current volunteer role at the clinic, Pisano says, "I work at the front desk and in the clinical area, I do ordering and coordinating, everything that a dental assistant can do. What more could you ask for? I'm doing everything I've known for just about all my life."
Volunteerism is what first drew Pisano to dentistry at the onset of her professional journey. She explains: "My husband was a career soldier, and we were stationed at a U.S. Army base when I started volunteering as an American Red Cross dental assistant. And I just fell in love with dentistry at that point, so I've been in dentistry ever since then."
As a lifelong volunteer, Pisano has served in many capacities, including with Flying Samaritans Arizona, an organization that operates free medical and dental clinics in Baja California, Mexico. Pisano also has enjoyed involvement with organizations such as the American Dental Assistants Association (ADAA), including serving as past president and vice president of the New Jersey ADAA chapter in the 1980s. She's been affiliated with groups like the Arizona Dental Mission of Mercy and Arizona Dental Foundation, as well.
Shares Pisano, "I've always loved some type of volunteer opportunity in the dental community to feel that I could make a difference. Why not volunteer?"
Dedication to education and certification

Beyond volunteering, Pisano's dedicated work in academics — both as a teacher and a lifelong learner — also has been outstanding.
Notably, she has proudly held Dental Assisting National Board (DANB) certification for 43 years, an impressive achievement recognized by the many patients and dentists Pisano has met along her path, who view DANB Certified Dental Assistants (CDAs) as elevating the dental office experience for staff and patients alike.
"A CDA has more credibility than a dental assistant who is not one," Pisano believes. "I was encouraged to pursue that credential by the dentist I worked with in New Jersey, as a way of proving that I have a certain level of dental knowledge because I hold a national credential."
Pisano adds, "I've also found that offices that hire CDAs tend to be prouder of the work that they're doing — a CDA helps to keep the office's standards higher. I'm happy to have worked in offices that value an education. You have to maintain the CDA credential with continuing education every year, and that ensures your knowledge is up to par."
This year marks the 75th anniversary of the Certified Dental Assistant (CDA) certification. Read more.
Over the years, Pisano's bolstered dental knowledge base has also benefitted her students. She has held various educator roles, including working as head of the dental assisting program at Union Technical Institute in New Jersey.
"I've been in dentistry for so many years, and I have always felt that the knowledge and the experiences that I acquire, I really need to pass on to others," Pisano shares. "I can't just keep them to myself, and that's one of the reasons that I went into education."
She continues, "I really try to encourage dental assistants to look into becoming a CDA, because that's the only way that I know of that you can really prove your dental knowledge with a credential, and I think that's important — you're a professional, not just a job keeper."
The more continuing education students can acquire along their academic journey, and then once they enter the dental assisting workforce, the better, Pisano believes. "My advice is to read everything you can about dentistry, and to look into the DALE Foundation's wonderful courses."
Rewards in patient care

Overall, Pisano says the dental assisting field has been an ideal fit for her skills and interests because "I'm a people person, first of all."
She feels both her dental office and education expertise well position her to help patients succeed today at the Sid Davis Memorial Dental Clinic.
Pisano shares an experience that stayed with her long after helping the patient receive treatment. A patient was referred to the Sid Davis Memorial Dental Clinic from the affiliated Poore Medical Clinic. Pisano says the patient probably hadn't seen a dentist in 20 years and was nervous about needing to have a painful tooth extracted — so much so that she bolted from the exam room after having her x-rays done and hearing the treatment plan from the doctor.
"She was out the door," recalls Pisano, who knew she had to do something. "During the next month, it took many phone conversations with the patient, whose discomfort had become extreme, to encourage her to return to the clinic so the team could help her. Just by talking to her and holding her hand for a half hour more in the office, before the doctor came in, the team was able to accomplish the tooth removal."
Pisano's work with this patient has become a success story for them both. "Now, she has had all her dental work done. Now, she calls us to come back for her cleanings and checkups!"
Pisano pauses, then adds sincerely, "She's a big deal. That's really rewarding, to be able to change somebody's fear into understanding and acceptance."