CDAs report higher satisfaction and career commitment, survey shows

Dental assistant salaries are on the rise, according to the DANB 2022 Dental Assistants Salary and Satisfaction Survey. Since 2004, DANB has conducted the survey biennially, highlighting current data and trends to help inform career and workforce decisions, while looking toward the future of dental assisting.
In 2022, Certified Dental Assistants reported earning about $4 per hour more than dental assistants who are not certified. Certified Dental Assistants with additional DANB certifications had the highest salary potential, earning $6 per hour more than those who are not certified — a 30% increase.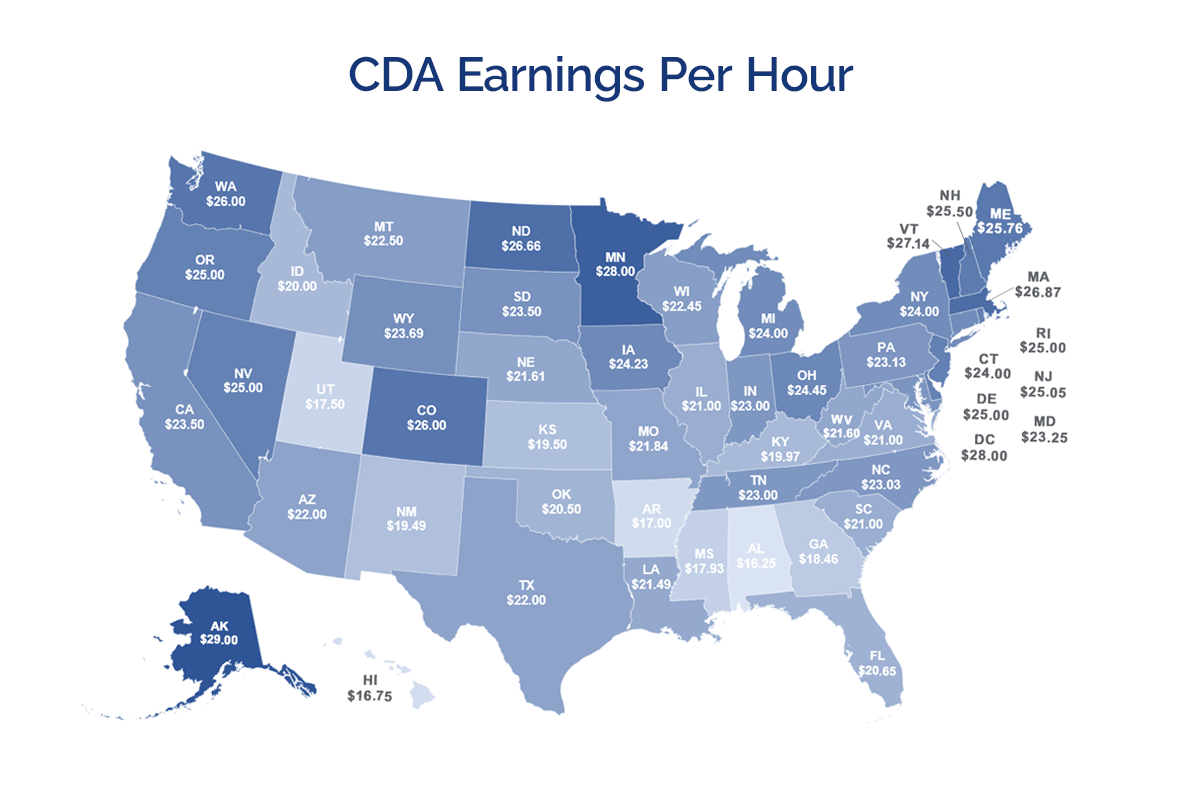 A variety of factors can impact dental assistant wages, including location, years of experience and education. For instance, dental assistants who work in urban settings tend to earn more than those in less populated areas. Certification can also play a role: Samantha Scott, CDA, of Washington says that being a Certified Dental Assistant has improved her salary potential.
"During my review earlier this year, my boss asked me why I should receive a raise," says Scott. "I listed my CDA certification as one of the reasons, and guess what? I got a 15% raise."
In addition to higher wages, over half of the dental assistants surveyed received a raise in the past 12 months, with an average pay increase of $1-2 an hour. Compensation is an important aspect of any career, and this is also true for a career in dental assisting — dental assistants reported higher job satisfaction with increased wages. Certified Dental Assistants were most likely to receive a raise and reported higher satisfaction compared to non-certified assistants.
Throughout Susan Christensen's three decades as a Certified Dental Assistant, she enjoyed both personal and financial achievements. "I have realized I didn't just find a job to fill my time, but I found a really satisfying career," she says. "I feel valued and appreciated, and my dental assisting salary has served my financial needs through all that life has thrown at me."
Certification offers benefits
The survey results also show that DANB certification continues to offer competitive advantages in a changing professional landscape. According to the 2022 survey results, Certified Dental Assistants reported higher wages and increased satisfaction, and they were more likely to view dental assisting as a career and feel valued by their employer.
In addition to professional advantages, CDAs reported that certification offered personal benefits such as pride, self-improvement and greater confidence. An overwhelming majority (98%) of Certified Dental Assistants surveyed plan to renew their certification. Dental assistants such as Scott know the positive impact CDAs can have on dental offices. "Certified Dental Assistants value all aspects of their career, they are hungry to grow and learn, and they're not afraid to work hard," she says.
Career satisfaction is high, but declining
Nearly two-thirds of dental assistants said they were satisfied or very satisfied, especially among CDAs and CDAs with multiple certifications. While job satisfaction remains high, this number has declined since 2016. Reasons for happiness at work can vary, but the top job factors for dental assistants surveyed included salary, work/life balance and feeling like part of a team. If dental assistants' needs aren't being met, they might seek employment elsewhere: nearly one in five reported changing jobs in the last year, particularly those who are not certified.
Diane Grondin, CDA-Emeritus, is now retired, but she struggled with job satisfaction when she started her dental assisting career in Massachusetts. Finding the right dental practice and taking advantage of education and certification opportunities made a difference. "I've noticed that some dental assistants have a hard time getting started in the profession, and I can relate — the start of my career was challenging, too," she says. "But then I found a great doctor who was supportive, and we worked well together. Sometimes it can be a tough field to get into, but if you keep at it, earn and maintain DANB certification, and continue your education, you will find the right fit."
For more career insights, download the full 2022 Dental Assistants Salary and Satisfaction Survey results.
About the survey
DANB's 2022 Dental Assistants Salary and Satisfaction Survey was conducted between July and August 2022. The findings are based on a 7% total response rate from survey invitations sent to more than 58,000 dental assistants.