For motivated dental assistants, community health center training program accelerates careers

Above from left: Lori Faccio, Chiricahua Community Health Centers, Inc. (CCHCI) Dental Health Center Manager, and Jackie Gonzalez, CDA, CPFDA, a Level III dental assistant for CCHCI.
For Jackie Gonzalez, CDA, CPFDA, of Douglas, Arizona, her name tag at work is more than part of her uniform — it's a badge of honor.

On Gonzalez's name tag is a ribbon indicating she's promoted to Dental Assistant Level III at the federally funded Chiricahua Community Health Centers, Inc. (CCHCI) in Arizona. The name tag also shows she holds Dental Assisting National Board (DANB) Certified Dental Assistant (CDA) and Certified Preventive Functions Dental Assistant (CPFDA) certifications.
These visible designations — earned as part of the centers' dental assistant training program for staff — demonstrate Gonzalez's knowledge and skills to her patients, including many who live in rural communities and may not otherwise have convenient access to dental healthcare.
Also importantly, Gonzalez's credentials show her co-workers and mentees that she has unwavering dedication to the dental assisting field.
"I became a dental assistant because knowing I've made a difference with a patient is fulfilling to me," Gonzalez shares. "It's also been fulfilling to work with the dentist, and to grow and gain supervisory responsibilities."
Lori Faccio, CCHCI's Dental Health Center Manager for nearly 20 years, hired Gonzalez 12 years ago as a Dental Assistant Level I, when she was new to the dental assisting profession. Faccio is proud of the strides that Gonzalez and her dental assistant colleagues have made as a result of the career path.
"This is why I do what I do, for that exact purpose right there," Faccio elaborates. "In my role, I see people who are truly dedicated, and I can be here in support of them and help them build and grow — and I love seeing our staff do that. By doing that, I know they're providing the best quality service to our patients."
Reaching the next level of dental assisting

Founded in 1996 as a small, rural health clinic operating in a community center, CCHCI has since grown to become the largest primary-care organization in southeastern Arizona, serving more than 30,000 patients annually.
CCHCI's dental program offers comprehensive dental services to thousands of people throughout Cochise County, at multiple dental clinic locations and mobile dental clinics.
At CCHCI, all dental assistants on staff can advance through the centers' dental assistant training program. The program sets dental assistants like Gonzalez up for success by preparing them to take DANB exams and earn certification.
"Over 19 years, I've seen our dental department grow from one dentist and one dental assistant to upwards of 10 dentists, five dental hygienists, and 17 dental assistants," Faccio says, noting that about currently one-third of the centers' dental assistants are DA IIIs. She credits the dental assisting team's growth and advancement to the incorporation of DANB exams and certifications into the dental assistant training program about 15 years ago.
"Chiricahua fully supports building from within," Faccio adds. CCHCI's dental program officially implemented its career ladder for dental assistants in late 2019, ramping it up in 2020.
Dental assistants at level I must pass DANB's Coronal Polishing (CP) exam and are encouraged to pass DANB's Radiation Health and Safety (RHS) exam within the first 60-90 days of employment.
"So far, we've been especially successful with the CP part," Gonzalez notes. "All the DAs who go to take it pass."
To become a Dental Assistant Level II, among the centers' requirements is to hold CDA certification. To advance to level III, dental assistants need to hold CDA and CPFDA certifications.
"Of course, with those different levels, we give different job responsibilities," Faccio explains. "The expectations are a little higher at each level."
And as a result, so is the pay. "Who doesn't like that, right?" asks Gonzalez.
Additionally, the centers' dental assistant training program goes a long way toward staff recruitment and retention, Faccio says.
"Advancement is available to the DAs here, and that's the big thing," she says. "I think this is a big push for them to stay, to offer them more."
Leading the dental assistant team forward

Those who have reached Dental Assistant Level III at CCHCI also gain leadership responsibilities. Gonzalez embraces the opportunity to champion the aspirations of her team of four assistants.
"I tell those who are studying for DANB exams, 'OK, let's go, let's do this! You only have one more test to go until you have your certification — come on, come on!' I'm a great cheerleader, a great supporter. My success is their success, and their success is mine."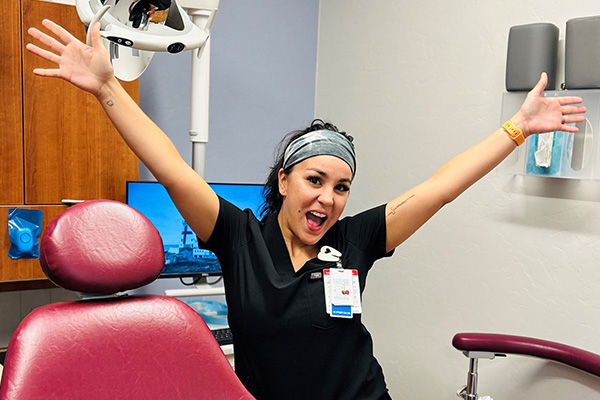 ---
"I'm a great cheerleader, a great supporter."
— Jackie Gonzalez, CDA, CPFDA, Level III dental assistant
---
Dental assistant staff study together for DANB exams, building their own study guides and using DANB exam-prep materials from the DALE Foundation. "We do use DALE Foundation materials a lot," Gonzalez says. "Our study approach works pretty well. We all motivate each other. We have a good team."
Once a CCHCI dental assistant passes a DANB exam, their co-workers will excitedly spread the good news.
"It totally builds confidence," Gonzalez believes. "Like, 'oh, you're at the next level now! Let's reach out to HR and get an updated title on your name tag so patients and staff can see that!'"
In addition to earning a certificate through DANB to proudly display, new certificants can showcase their accomplishment by sharing a digital badge on social media. From Faccio's point of view, this type of encouragement and recognition elevates team morale and instills higher confidence in individuals.
"It inspires the dental assistants to do more and push themselves harder," Faccio adds. "They don't want to be left behind."
Looking ahead to the future

Ultimately, Gonzalez loves working at CCHCI. She is committed to the continued advancement of her own career, her colleagues' careers, and the centers' dental assistant training program.
"I'm not going anywhere," she says. "I like the competition of the training program — because I compete with myself. I like moving within the company. I like being a dental assistant, so I don't see myself going back to school to be a dentist or hygienist. Having this career path is really nice."
Gonzalez has her sights set on becoming DANB certified in dental infection prevention and control later this year.
What's next for CCHCI? Faccio is exploring membership in the American Association of Dental Office Management for herself and some office management staff, who currently use DALE Foundation office management courses for team training.
"I love seeing that the DA training program builds dental assistants up," Faccio says. "That's why we're trying to do the same, basically, with our front desk staff as well. How do we offer them more?"
And Gonzalez has been part of developing a future Dental Assistant Level IV tier for the dental assistant training program, so assistants can perform more expanded functions as allowed by the state.
"I'm really excited for that," Gonzalez says, "to keep moving and not be stagnant, to keep me on my toes."